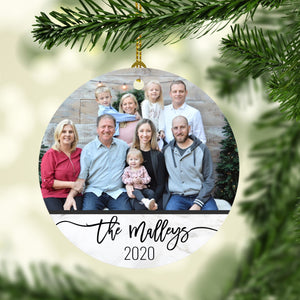 Photo Ornament
Regular price $19.99 $19.99 Sale
Our beautiful family picture ceramic ornaments are unique and make a sentimental keepsake that will look beautiful on your Christmas tree for years to come.
Our ceramic ornaments are perfectly made and created just for you and your loved ones.

Our ornaments are approximately 2.75" in diameter and are made from high quality porcelain and completed with a high gloss finish.

Each ornament includes a gold string hanger for easy decorating.

If you would like to gift this ornament, you can upgrade your order to have the ornament packaged in a gorgeous muslin bag for easy storage.

The picture is permanently applied onto the ornament and will not peel or change color, making it a long lasting decoration for your tree.

Ornament Information:
- Height: 2.75 Inches; Width: 2.75 Inches; Depth: .2 Inches
- White Porcelain ornament approximately 2.75" in diameter complete with a gold stringer hanger